---
Pentecostal Cult
with Aid of System
Promotes Child Sexual Abuse
This is My Story of Alleged Abuse by a Pentecostal Cult and Abuse by a Government Allegedly that Promotes Child Sexual Abuse and Satanism

As of 6-98, DHS has proven by their alleged incompetencies, these websites to be true. They are the creators of MPD/DID in our children. This page allegedly happened/happens....
Most recently the events that have occurred is that I was attacked by a deputy after reports were made about a 10 year old boy having been caught attempting intercourse with his 6 year old sister, in McClain County. Instead of doing something with the children, I was blamed as having reported and attacked by (what I believe now to be an alleged) Dare Program pedophile who also is involved in drug dealing(a 30 year old guy told me the deputy was one of his perpetrators, an 18 year old told me this deputy dealt drug to him before he got off drugs. These disclosures were made in 1-98, the deputy attacked me 8-97, and attempted to attack me at court 10-97. My younger daughter, age 19 now, is pregnant by the 10 year old's 20 year old brother, she would not have known these people had not a crooked judge illegally removed a protective order I had against these satanist.

It was after the guy(pentecostal cult member) who raped my daughter when she was age 5 was reported that he was hired at the court house where his child rape was reported.

Because of the removal of the protective order, I was raped, my daughter was stalked at school 1-97 by a cult member who got her to drop out of school, took her job, demolished two of her cars, humiliated her and told her contraceptives made her smell bad until he got her off contraceptives, introduced her to a hick(who's brother wwas caoght attempting intercourse with his 6 year old sister, which report of it seems is what caused me to be atttacked by a crazed deputy(intent on his right to allegedly sexually abuse children and have them sexually abused is my belief).

My daughters would not have known these people (the 10 year old and 6 year old had not a crooked judge illegally removed a protective order in '94, after I asked him not to, due to she was raped when she was 16 by a member of the destructive group(satanists) that I had the protective order against. The oldest of my 2 daughters was a minor at the time the protective order was removed. A crook in child welfare, who I had investigated by civil rights, not only for having violated laws on my case but for abuse he was promoting in foster homes.

The protective order was removed in the same month my oldest daughter had surgery on her cervix from a precancerous cell STD sexually transmitted by a cult member who had violated my protective order. The DA's office had refused to issue warrant against him when I reported him having violated my protective order and then removed the protective order illegally 1-94. I had that judge investigated for 10 law violations from the statutes books 2 times, ineffectively.

After the order was removed, the biological dad of the cult member who gave my oldest daughter(who is mpd/DID from sexual abuse/rape as a child by a Pentecostal Cult in the area)the sexually transmitted precancerous cell STD, came to town. A drug dealer from the state capital. He was messing with my younger daughter, who also was a minor at the time, and I suspected dealing drugs.

I ran him off but the cops refused to do anything with him, and asked my daughter in front of him if he had sexually abused her. He was age 40 at the time. After I got rid of him, I took her to the Dr. where she exhibited signs of flashbacks and would not let the Dr. do a pap. They flushed her ua after promising they would drug test it. I did manage to get her drug tested, but counselor, who was very controlling, managed to get involved and tried to control information from the results of the drug test. I had the test done at a Drug and Alcohol center where it was simple and cheap. The counselor there told me that when teens turn 14, they do not have to let the parents know.[Laws had recently been changed also which made age 16 the age of majority, which made it nearly impossible to get the DA to file charges of rape for a survivor age 16 or older.(But they made excuses when my oldest was sexually abused when she was age 15 also, and the DA's office lied to me about the laws concerning that event, which I will go into later.)]

I wrote a poem and got it published about why they make laws that enable drug dealers and rapists.

In '98, I have enough evidence to believe the DA's office, the multicounty task force, many of the attorneys, counselors, judges, etc. are involved in drug dealing, as well as members of the Attorney General's office and the Bar Association.

My ex-husband was a wife beater in the extreme. Although I tried to get him to not hit me, and ESPECIALLY TO NOT HIT ME IN FRONT OF MY 2 DAUGHTERS, AS THAT WAS HURTING THEM, HE WANTED THEM TO SEE. ALTHOUGH I ASKED HIM TO NOT LET MY 2 DAUGHTERS HAVE CONTACT WITH MY FAMILY AND THE PENTECOSTAL CULT, HE DID; SO WHEN THEY TRY TO BLAME ME FOR MY DAUGHTERS HAVING BEEN ABUSED, THEY SHOULD START WITH HIM FIRST.

He abused me severely, I had to help him get his PhD.

Then we got divorced, for the past 10 years he has owed me money. When someone burned his garage the same day investigations began of the crooked judge, who bragged in court about being my ex-husband's neighbor, and the same day the guy who raped my daughter when she was 5 was being investigated by Child Welfare(ineffectively, but members of that cult called that day also threatening to killsomeone, the court system has done nothing to them for any of this so far, but hired him to work at the court house), because his daughter had complained about her dad and grandpa touching her inappropriately; they tried to blame me but I had 2 alibi's, and my ex-husband most likely made money from the fire from the insurance company.

He has enabled the paint huffer from the destructive cult who the crooked judge removed my protective order from, who(with his mother, and bio dad who raped me in '96 of which the court house has refused to issue warrant on; are into satanism).

He is so afraid of me telling about his abuse to me that he still abuses our daughters and attempts in every way he can to blame me for everything, called me names incourt with the crooked judge, etc. He is so selfish and greedy that he cannot see that being on the right side of abuse laws and amending his wrongs would be more in the right instead of continuing to abuse his daughters (and most likely in the future my grandchild due March '98, child of a crankster due to the crooked judges illegala removal of my protective order against the destructive cult) and me, because he is afraid my tellling about how extreme he is in his abuse will hurt his computer consulting business. He was fired from his previous job 2 times because of how abusive he is, yet the crooked judge violated laws in his enabling of this abuser. He currently abuses his wife, and by doing so also the children. And he still tries to abuse me, and claims when I am interested in issues with my daughters that I am interested in him, this is his ego, selfishness, and greed.

We live in a society of men who hate women, who are so scared of women they go to great lengths to control women; who are so afraid to look at their unresolved issues at their mother that they violated laws, abuse women, children and grandchildren. This includes the alleged pedophile judges who are so by their violation of abuse laws and by their enabling perpetrators, pedophiles, and drug dealers.

In their greed, selfishness, hatred, they breed hatred and create MPD/DID in our children, who are our future. This is the non-human 'nature' of man, man who creates hatred and frustration when they could be, if they weren't selfish and greedy, creating love and hope for the future.


I must tell, for the opposite of telling is enabling the abusers, and is denial.
The more they hurt, the more the survivor must tell, until it stops.
Like I told the bar association in my attempt to have investigated one attorney who lied to me earlier this year, what they don't seem to understand is the more they violate rape laws and the more they hurt my daughters and me the louder I scream, if they want me to be quiet, they should stop abusing me and my daughters and stop enabling abusers, and stop violating rape laws.

I believe that in spite of the alleged abusers in the system, I must break the cycle of abuse and help my daughters recovery, which is what the perpetrators and abusers in the system who allowed the abuse by law violations, etc actually owe as amends to survivors of abuse, yet I have been abused for amending some of the wrongs of my and my daughters perpetrators by helping them, by seeking therapy for them, by being there when they need me, by being a safe person, by learning all I can about mpd/did and by battling the perps and alleged system abusers to help my daughters.

Instead of attacking and abusing me, what they should have done was to put the (alleged) satanic, drug dealing, child sexual abusers and rapists of teens and adults on the pedophile posters. Should I not wonder about a system that refused to issue warrants on rapists and punished me for reporting rape even as the new law of registering pedophiles became active in Oklahoma.

WHEN THEY allegedly VIOLATE RAPE LAWS, WHETHER CHILD OR ADULT RAPE LAWS, THEY BECOME LIKE alleged THE RAPISTS, IN MINDSET, AND IN HOW THEY SEEM TO OTHERS. IF THEY ARE NOT LIKE THE alleged RAPISTS, DRUG DEALERS, AND SATANISTS, WHY WOULD THEY NOT ISSUE WARRANTS ON THEM, AND THEN WHY DID THEY HAVE A DEPUTY ATTACK ME?

What qualifies this system more as an alleged cult is that they have gone to great lengths to try to blame the survivor who tells, to try to blame the mother instead of prosecuting the alleged child molesters and child rapists; this sides them with the alleged child molesters and child rapists and makes them alleged silent partners of the abusers and of the same mindset as the alleged child molesters and child rapists.

I was the one who did not want my daughters around my family or the cults when they were children, since I was women/nothing, who knows nothing, in my ex-husband's belief, my daughters are MPD/DID from abuse by the cults of central Oklahoma. I am the one who has battled to stop abuse to children, in my childhood with my siblings, and battled my ex-husband to protect my children from abuse, and battled the system to protect my daughters from abuse and help them to therapy.

Since I have been punished for that, I have charted for the past few years, before writing my books, my daughters patterns, behaviors, etc and shown how they coincide with holidays, birthdays, from my daughter's childhood years; working toward the day when they will be able to achieve recovery's beginnings and therapy, building a base upon which they can work to put in the pieces to their puzzles and undo negative patterns by undoing the barrier between the personalities and the core, by letting the memories surface so that negative, self-destructive patterns can be changed into recovery and self-love. Phone contact in dec. '92 between my oldest and the guy who was hired at the court house, created extreme dissociation in her and a series of personalities dominated for a time, most of which are yet to be charted into what Dr. Ross calls the Map of Personalities.

If the crooked judge had not illegally removed my protective order in '94, which stopped the therapy she was having, she could be much further into work on the personalities and recovery, and he wouldn't have allowed the cult to have created the 'wife personalities' she has battled with since '94.

Not only does the system behave as alleged child molesters and child rapists, they do not know what prevention and recovery mean, and they are into and have their own unresolved childhood issues, which arise from a cult-normalized society/mindset/belief system.

When they side with the perpetrators, they have the (alleged) mindset of perpetraitors. When they violate rape laws, they have the mindset of (alleged) rapists.


SATANIC AND CHRISTIAN RITUAL ABUSE
has been enabled and promoted by the intersystem cult.
It was after I reported in 8-95 the bio dad(for drug dealing and possible child sexual abuse)(bio dad of the satanic cult member who stalked my daughter at school 1-97), that law enforcement began harassing me. (It was after I reported the Pentecostal Cult member who raped my daughter when she was age 5, that he was hired to work at the court house.)

I am aware that this bio dad from the satanic cult and the mother ritually abused the cult member (who wanted the protective order removed, who violated it before it was illegally removed, who stalked my younger daughter at school 1-97, for which reproting of I was abused 1-97 to 2-98) when he was a child and locked him up places in his childhood the cult member who stalked my daughter at school 1-97.

This is the same cult member that the DA's office refused to issue warrant against for having violated my protective order(which caused my oldest daughters need for cervical surgery from this cult members violation of my protective order)before the crooked judge illegally removed that protective order against my wishes. That protective order was illegally removed the same month she had surgery on her cervix. They still owe me for what my attorney of this past year cost me and for what the deputy who attacked me cost me. They still owe my daughters for the abuse in their childhoods which could have been prevented had I been listened to, and if they didn't and don't side with (alleged) child molesters and child rapists.

source:
http://www.geocities.com/Wellesley/Garden/1435/index.mystory.html


---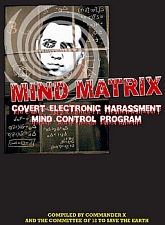 ---
HiddenMysteries.org is a publication of TGS Services
Please direct all correspondence to
TGS HiddenMysteries, c/o TGS Services,
22241 Pinedale Lane, Frankston, Texas, 75763
---
All Original Content and Design © HiddenMysteries - TGS (1997-2007)
HiddenMysteries.com Internet Store ~ HiddenMysteries Information Central
Texas National Press ~ TGS Publishers Dealers Site
All Rights Reserved
The articles being presented and published are not necessarily the views or the research of TGS HiddenMysteries. TGS may or may not agree with the assumptions, the articles, or the conclusions of the authors. Each article is presented to give everyone every possible source to TRUTH available. Discerning TRUTH is the responsibility of each reader.

We welcome challenging viewpoints from all sources...even opposing viewpoints. In diversity of views we can still find the research and documentation valuable, whether we agree with the views of the author or not.