---
Snake Kills
Snake Handling Evangelist
by Kent Faulk
The Birmingham News Staff Writer
October 6, 1998
Macedonia, Alabama -- The congregation of a small Jackson County church where a snake-handling evangelist died from a serpent's bite this weekend won't change its practices, the church's pastor said Monday.
"We still believe in the same thing," said the Rev. Billy Summerford, pastor of Rock House Holiness Church.
The Rev. John Wayne "Punkin" Brown Jr., 34, of Parrottsville, Tennessee, died Saturday night while handling a four-foot timber rattlesnake during a sermon, preaching on for a quarter-hour after he was bitten. His wife died of a snake bite three years ago.
On Saturday, Brown was clutching the snake in his right hand when it bit him on the middle finger of his left, between the knuckle and first joint, said Jackson County Sheriff's Chief Investigator Chuck Phillips.
The Rev. Gene Sherbert, of Temple, Georgia, was next to Brown. "He looked at me and I knowed he was bit and I put it (the snake) back in the box," he said.
Brown continued to speak but faltered about 15 minutes later, Sherbert said. The 50 to 75 attending the service gathered around Brown, prayed and tried to make him comfortable by putting an electric fan above him, he said.
Brown died within minutes.
He was pronounced dead at Jackson County Hospital in Scottsboro.
The Alabama Department of Forensic Sciences took Brown's body for an autopsy to make sure he died from the snake bite and that the bite didn't trigger another problem, said Jackson County Coroner Jim Grigg.
No criminal charges are pending, Phillips said. "It's not illegal. It's part of a religious service.... It was his own snakes that bit him," he said.
Authorities have video tapes of Saturday night's service but are not releasing them.
Brown, who had been preaching at a revival since last Wednesday, was known throughout the Southeast as an evangelist who had been handling serpents since he was 17. Brown's father also is a serpent handling preacher.
Brown had been bitten 22 times before the final strike. His wife, Melinda, died in August 1995 after being bit while handling a snake. The Browns had five children.
"It was the hand of God. It was his time to go," said the Rev. Carl Porter, a serpent-handling pastor of a church in Kingston, Georgia, who came to Rock House Holiness Church within a few hours after Brown died.
"He was really looking forward to that day anyway" when he would see his wife again, Porter said.
Porter, who took home Brown's two snakes, said he plans to give them to Brown's brother who lives in Newport, Tennessee.
Summerford, who has been bitten five times while handling snakes, said his church won't change.
"The church is a believing church," he said.
Serpent handling continues to be practiced in some churches, primarily in Appalachia. The members of at least three churches on Sand Mountain handle serpents, Porter said.
Summerford's brother pastors another serpent-handling church in Jackson County. And his cousin, the Rev. Glenn Summerford, was the pastor of another -- until his conviction in 1992 for attempting to murder his wife by forcing her hand into cages of agitated rattlesnakes.
Most states, except Georgia and West Virginia, have laws prohibiting snake handling with a fine of $100 to $150, Porter said. Most, however, don't enforce it because authorities see it as a religious practice, he said.
"I believe in obeying the law of the land, but I believe God's laws come first," Porter said
As the basis for their belief, those who handle serpents cite Mark 16:17-18: "And these signs shall follow them that believe; In my name shall they cast out devils; they shall speak with new tongues; they shall take up serpents; and if they drink any deadly thing, it shall not hurt them; they shall lay hands on the sick and they shall recover."
Sherbert, who said he has been bitten 23 times and often attends the Jackson County church, doesn't believe Brown's death will faze members. "I think they will be more careful about handling serpents. I think they will wait until the Lord moves on them," he said.
"A lot of people don't understand us. We are just normal people but we believe God's word."
© 1998 The Birmingham News.
---
Trouble for a
Snake-Handling Sect
by Conrad Goeringer


December 8, 1996
If you have doubts about opposing the Religious Freedom Restoration Act which guarantees just about any kind of potentially harmful religious ritual (even inflicted on kids), well, read this and grab a snakebite kit. Today's Birmingham News carries a fascinating story about the Rev. Glenn Summerford, former pastor at the Church of Jesus with Signs Following (that's the real name!), and currently a guest of the state correctional authorities. Pastor Summerford was convicted in the 1991 attempted murder of his wife, Darlene, whom he forced to hold her hand in a box full of rattlesnakes until she was bitten.
It seems that Rev. Summerford and his church believe in "snake handling," based upon the Biblical injunction that the faithful should "take up serpents." It has been estimated that as many as 15,000 persons in the country may practice this rite for religious reasons, but law officers say that the pastor's motivation for having his wife follow such an edict may have been even darker. They insist that Rev. Glenn was trying to murder his spouse, although he says that she was bitten "when her faith waivered and denied forcing her hand into the box."
Since the conviction, Rev. Summerford's congregation has disbanded. The snakes were shipped to the University of Alabama for research and experimentation, and Pastor Glenn continues his religious pleadings behind bars. Ms. Summerford, perhaps seeing an opportunity, has disappeared.
---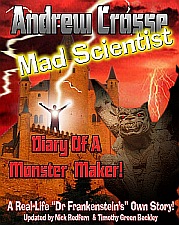 ---
HiddenMysteries.org is a publication of TGS Services
Please direct all correspondence to
TGS HiddenMysteries, c/o TGS Services,
22241 Pinedale Lane, Frankston, Texas, 75763
---
All Original Content and Design © HiddenMysteries - TGS (1997-2007)
HiddenMysteries.com Internet Store ~ HiddenMysteries Information Central
Texas National Press ~ TGS Publishers Dealers Site
All Rights Reserved
The articles being presented and published are not necessarily the views or the research of TGS HiddenMysteries. TGS may or may not agree with the assumptions, the articles, or the conclusions of the authors. Each article is presented to give everyone every possible source to TRUTH available. Discerning TRUTH is the responsibility of each reader.

We welcome challenging viewpoints from all sources...even opposing viewpoints. In diversity of views we can still find the research and documentation valuable, whether we agree with the views of the author or not.